Idaho State Chaplain
Idaho Knights of Columbus
My Brother Knights,
I hope this message finds you well. Just recently I was with the delegates who were supposed to go to the Supreme Convention in Washington D.C..  However, with the CoronaVirus, it was a virtual Convention this year and we met up at a hotel in Pocatello. The last day we had a small retreat where we watched a few videos from the series on Formed.org called "Kapaun's Men Virtue Series." It is based on the life of Fr. Emil Kapaun, a Catholic Priest and U.S. Army Chaplain who was captured while giving aid to wounded soldiers during the Korean War and died in a Prisoner of War Camp in 1951. What an incredible man! Even though many of the soldiers knew they were going to die, Fr. Kapaun inspired them to keep going.  Many soldiers who survived said, "He gave us a will to live." "Even in the darkest hours when he would offer a prayer service, he could make a mud hut seem like a grand cathedral." Even in these hard times Fr. Kapaun lived his faith and brought these men hope, a hope that came from his relationship and faith in Jesus Christ. Even after Fr. Kapaun died in the camp, he told the men to keep on fighting the good fight, and they did to the best of their ability, many of them actually surviving the camp.

As we continue to live our lives in these difficult times, may we the Knights of Columbus bring hope to those who have lost the will to live. May we like Fr. Kapaun, allow the divine heartbeat of the Risen Jesus to beat again anew in our own lives, that we can share this hope with others. To borrow the words of Pope Francis, "In all those places where the grave seems to have the final word, where death seems the only way out. Let us proclaim, to share and reveal: Vivat Jesus! Jesus lives! He is living and wants to rise again in all those faces that have buried hope, buried dreams, buried dignity…. May we the Knights of Columbus allow His tenderness and His love to guide our own steps and may we allow the beating of His heart to animate everything that we do" (Excerpt from Homily from the Mass of the Easter Vigil 2017 in the Vatican Basilica, Rome).
God Bless and Vivat Jesus,
Fr. John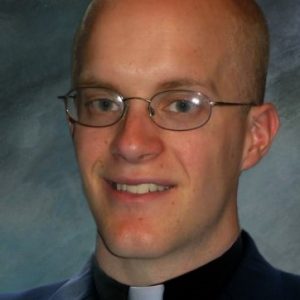 Video Messages from Father John Kucera
Select date
Saint Andrew, apostle – Feast
Letter to the Romans 10,9-18.
Brothers and sisters: If you confess with your mouth that Jesus is Lord and believe in your heart that God raised him from the dead, you will be saved.
For one believes with the heart and so is justified, and one confesses with the mouth and so is saved.
For the scripture says, "No one who believes in him will be put to shame."
For there is no distinction between Jew and Greek; the same Lord is Lord of all, enriching all who call upon him.
For "everyone who calls on the name of the Lord will be saved."
But how can they call on him in whom they have not believed? And how can they believe in him of whom they have not heard? And how can they hear without someone to preach?
And how can people preach unless they are sent? As it is written, "How beautiful are the feet of those who bring (the) good news!"
But not everyone has heeded the good news; for Isaiah says, "Lord, who has believed what was heard from us?"
Thus faith comes from what is heard, and what is heard comes through the word of Christ.
But I ask, did they not hear? Certainly they did; for "Their voice has gone forth to all the earth, and their words to the ends of the world."


Psalms 19(18),2-3.4-5.
The heavens declare the glory of God;
and the firmament proclaims his handiwork.
Day pours out the word to day,
and night to night imparts knowledge.

Not a word nor a discourse
whose voice is not heard;
Through all the earth their voice resounds,
and to the ends of the world, their message.


Holy Gospel of Jesus Christ according to Saint Matthew 4,18-22.
As Jesus was walking by the Sea of Galilee, he saw two brothers, Simon who is called Peter, and his brother Andrew, casting a net into the sea; they were fishermen.
He said to them, "Come after me, and I will make you fishers of men."
At once they left their nets and followed him.
He walked along from there and saw two other brothers, James, the son of Zebedee, and his brother John. They were in a boat, with their father Zebedee, mending their nets. He called them,
and immediately they left their boat and their father and followed him.
Copyright © Confraternity of Christian Doctrine, USCCB
dailygospel.org