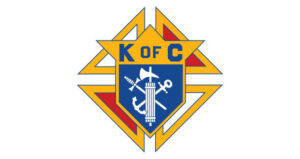 The colors of our emblem also carry great significance: red for our faith in Christ, blue for hope, gold for the joy of service, and white for charity. Together, the elements of our emblem convey our dedication to serve in Christ's name.
Ax – a symbol of strength, authority, and preparedness for duty.
Anchor – the mariner's symbol for Columbus, patron of the Order, for hope and steadfastness.
Sword – the medieval knight's weapon on an errand of mercy and justice.