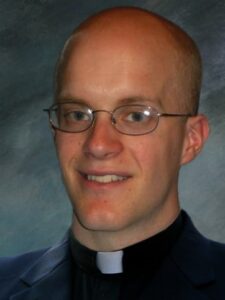 My Brother Knights,
Merry Christmas and Happy New Year! I hope this message finds you well. During this last Advent season, for some reason I was drawn to the song "O Come, O Come Emmanuel." There are of course many different verses to the song, and each one begins with a different way of invoking God, like O Come Emmanuel, or O come Thou Wisdom from on High, or O Come Thou Dayspring from on High, etc. More than just singing a song, we are invoking the Lord in prayer, asking God to come, and help us with His Power, Might and Grace. One of the last verses goes:
"O come, Desire of nations, bind In one the hearts of all mankind;
Bid every strife and quarrel cease And fill the world with heaven's peace."
Wow, isn't that something we need now, to really have Christ's peace in our hearts, to heal the strife and quarrels that exist in our world, nation, families and personal lives. When Jesus came to us as a baby many years ago there were great strife and quarrels happening in that time. We have our own strife and quarrels today that need to be overcome. And yet let us remember that we don't need to do this alone. Emmanuel, which means God is with us, is indeed with us. Those same words the angel spoke to the shepherds are for us as well, "Do not be afraid; for behold, I proclaim to you good news of great joy that will be for all the people. For today in the city of David a savior has been born for you who is Christ and Lord" (Luke 2:10-11). Shortly after, many angels appeared singing, "Glory to God in the Highest and on earth peace to those on whom his favor rests" (Luke 2:14). What an experience that must have been!
My brothers, the truth is, is that we have access to Jesus the Prince of Peace just like the Shepherds did, or Mary and Joseph, or the first Apostles. Jesus who was laid in a manger, a food box for animals, now comes to us under the appearances of bread and wine as our food on the altar in the Eucharist. Jesus of course comes to us in many and various ways, such as in the Word of God, the other Sacraments or whenever we pray, but in a special way in the Eucharist. Just as people missed it when Jesus came as a baby, we can miss Him in our own lives if we are too busy. One of the reasons our world is so full of strife and quarrels is that we forget to come to the Prince of Peace and allow His love to bind our hearts in mutual love and respect of one another. How can we like Mary, St. Joseph and the Shepherds, take time to ponder the great mysteries of our faith and to actually go and visit the Prince of Peace? I don't know if you have thought of this before but whenever we come and visit Jesus in the Eucharist, it is as if we are the Shepherds going to see the Christ child in the Manger. Maybe we don't understand what is happening, or we feel
nervous like we don't know what to do when we are in the presence of our Lord, but I would echo the words of the angel, "Do not be afraid!" Jesus will lead and guide you.
Perhaps it is helpful for us to think about coming before Jesus when he was a child. Do any of you feel threatened by a child? There is something adorable and irresistible about being around a baby, and we can let out guard down and truly be ourselves. I think of the precious moments when I am with my niece or some of your kids. How God longs to be united with us, with the loving tenderness that parents have for their children. Jesus desires to truly fill our hearts with His love and peace; to dispel the strife and quarrels in our lives, to heal the false images we have about God that are preventing us from coming to Him. One great way to allow this to happen is to come to visit Jesus in the Eucharist. As we enter into this Christmas season I pray that Christ the Prince of Peace, may enter into all of our lives in a new way. If you are interested in a way of searching for and maintaining peace in your life I highly recommend Fr. Jacques Philippe's book "Searching for and Maintaining Peace." As he says in the book, "Often we cause ourselves to become agitated and disturbed by trying to resolve everything by ourselves, when it would be more efficacious to remain peacefully before the gaze of God and to allow Him to act and work in us with His wisdom and power, which are infinitely superior to ours. For thus says the Lord God, the Holy One of Israel: By waiting and by calm you shall be saved; in quiet and in trust your strength lies, but you would have none of it (Isaiah 30:15)" (pg. 6).
Know you are in my prayers this Christmas season and throughout the New Year.
Take Care and God Bless,
Fr. John Kucera